Julie Taylor Appointed Executive Director for Miramont Pointe, A Senior Living Community
CLACKAMAS, Oregon (June, 12, 2014) – Miramont Pointe, a premier senior living and health care community, managed by The Goodman Group, today announced the appointment of Julie Taylor as executive director, effective immediately. The appointment was announced by Craig Edinger, vice president of senior living & health care, The Goodman Group, who manages Miramont Pointe, A Senior Living Community.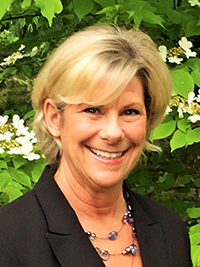 As executive director of Miramont Pointe, Taylor plays a key role in the management of all departments and processes, and providing information and direction to all staff, while maintaining consistent standards throughout every building.
"Julie has extensive experience in health care management and has been successful in leading teams to achieve numerous awards. Her hands-on style of leadership, commitment to excellence, and passion for seniors will make her a valuable addition to the team at Miramont Pointe," said Edinger.
Taylor brings more than 15 years of experience in senior living and health care to her new position. She started her career as a Certified Nursing Assistant (CNA). Taylor's most recent experience includes serving as an Executive Director of a senior living community with a homelike setting similar to Miramont Pointe for nearly seven years.
Most recently, Taylor served as regional vice president of Frontier Management LLC in Oregon, an organization that manages quality senior housing and services throughout the United States. In this position, Taylor was responsible of overseeing 17 senior living communities specializing in Retirement and Assisted Living, as well as Memory Care. Previously she served as executive director for Frontier Management LLC, where she was responsible for all aspects of business operations and management for the community.
Taylor's successful leadership of teams has been widely recognized by the health care community. Most recently, she was awarded the 2013 National Assisted Living Executive Director of the Year award from the National Council for Assisted Living. That same year, Taylor and her team received an Innovative Programming Award from the Oregon Health Care Association. In 2012, she received several awards from Frontier Management LLC, including Executive Director of the Year, Highest Overall Census, and Best Financial Performance.
Taylor has a degree in Healthcare Management from Mt. Hood Community College in Gresham, Ore. Taylor also holds Executive Director Certification from the Oregon Health Care Association.
---